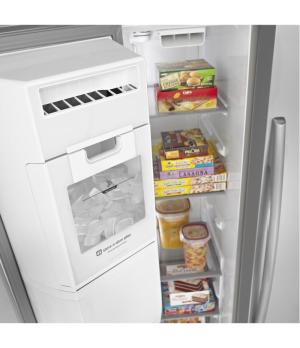 While any malfunctioning appliance can be a nuisance, when you're dealing with a refrigerator that's on the fritz, you need to act fast to avoid a disaster. Unlike your laundry room appliances or dishwashers, a properly functioning refrigerator is truly essential to your household because it is responsible for keeping your food both fresh and safe. When these machines break down, you can be in for a major headache—not to mention food spoilage—if you don't opt for professional refrigerator repair immediately. If your fridge is acting up, don't hesitate to get in touch with Elite Appliance Repair, Inc. right away when you notice signs that your refrigerator is no longer performing as it should. We service residential models in both homes and commercial spaces, so call or e-mail us today to speak to one of our technicians or to set up an appointment for refrigerators repair!
At Elite Appliance Repair, we can offer service for a wide range of different brands, providing everything from GE refrigerator repair to Maytag refrigerator repair and beyond. There are a lot of factors that could be contributing to your unit's problems including a broken compressor, a fried thermostat, or even just a deteriorated door seal. When you call on the professionals at Elite Appliance Repair to have your refrigerator repairs concerns addressed, you can rest assured that we'll be able to provide a solution for you. Our fully insured, EPA-certified team will be able to fix your malfunctioning refrigerator, starting by assessing the situation and then providing you with a customized solution to the problem. Our refrigerators repair specialist have both the tools and the know-how to provide you with top-quality refrigeration repair services time and time again. 
Call on our refrigerator repair service if you notice any of the following issues with your unit:
Leaking
Inadequate cooling
Too much cooling (freezing food)
Interior lights not turning on or off
Strange noises
Not turning on
And other performance issues
Utilizing the skills of an experienced refrigerator repair technician at Elite Appliance Repair could save you money and extend the life of your refrigerator for years to come. Don't waste your time or spend your hard-earned money on a brand-new refrigerator when simple repairs may be all you need. Make the smart choice by calling Elite Appliance Repair for reliable refrigerators repair service. We offer reasonable rates for all of our services, so you can't go wrong by choosing to work with us. 
If you're unhappy with your refrigerator's performance, contact us right away. We're the top choice for Concord residents who are in need of accurate diagnoses and long-term solutions. We have 24 years of experience with refrigeration repair to rely on, and that means you'll get results you can depend on. With our 90-day labor and 30-day parts warranties on refrigerator repairs, you know you can count on Elite Appliance Repair for some of the best service in town! We don't want your food to spoil anymore than you do. Call or e-mail us now for expert refrigeration repairs that will last!