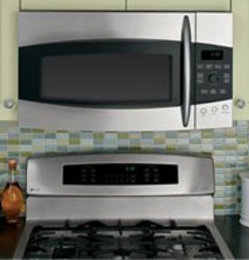 Are you interested in making the most efficient use of space in your kitchen? If so, an over-range microwave is your best bet. Over-the-range microwaves are great space savers for homeowners, and you can count on the appliance installation pros at Elite Appliance Repair, Inc. to install your new built-in microwave with ease. We offer professional installation of over-the-stove microwaves for homeowners in Concord and the nearby areas. To learn more about how we can help you install your new above-range microwave, call or e-mail us today. Our seasoned microwave installation pros are ready to provide you with flawless service!
If you've recently purchased an over-range microwave to add to your kitchen, getting professional installation is a must. While you might think that DIY installation of your new above-range microwave will save you both time and money, the  truth is that doing something so complex on your own could actually end up wasting lots of time and money. Because there are things like lighting and ventilation to consider when installing over-the-range microwaves, making a misstep could mean that your new unit doesn't work properly. If you want to ensure that your over-the-oven microwave performs its best right from the start, then you need the experienced pros at Elite Appliance Repair. We have 24 years of experience with microwave installation, so you can rest assured that we will be able to handle the installation of your new built-in microwave with both care and a high level of professionalism. When you want results that last, our over-the-stove microwave installation experts are your best source for superior results.
Affordable Over-the-Range Microwave Installation
If you're ready to install a microwave in your kitchen, it's important to seek affordable installation services. Odds are that you've probably already spent a pretty penny on your new unit, so spending a big chunk of change on installing your over-the-range microwave isn't ideal. Fortunately, you can count on getting affordable over-the-stove microwave installation from the team at Elite Appliance Repair. As a family-owned company, we strive to provide all of our customers with reasonable rates for our installation and repair services. If the time is right to install a microwave over your range, we're here to offer you professional results and friendly service for an affordable rate. Secure professional installation for your over-the-oven microwave today by calling Elite Appliance Repair. It's our job to make over-the-range microwave installation a breeze for you!