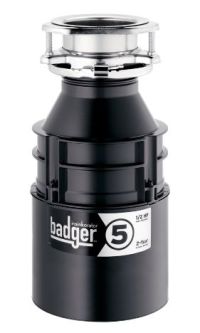 When you're done with a meal, getting rid of unwanted scraps is easy with the help of a working garbage disposal. However, the moment your disposal stops working or falters in performance, your after-meal cleanup is likely to get much more taxing. If you want to ensure that you can clean up after dinner quickly and easily, you should call on the garbage disposal repair pros at Elite Appliance Repair, Inc. at the first sign of a problem with your unit. We offer professional garbage disposer repair for homeowners in the Concord area and beyond, and there's no sink garbage disposal issue, large or small, that our technicians can't handle. Whether you have a clogged garbage disposal or a garbage disposal that's leaking, we'll handle the issue with ease. Call us today to schedule garbage disposal service or to speak to one of our team members about your needs!
Garbage disposal problems can stem from a wide range of different issues, from clogged food to damage to simple wear and tear. If you notice that something's wrong with your disposal, then it's in your best interest to call in our garbage disposals repair team right away. The longer that you put off dealing with garbage disposal issues, the more trouble you're likely to have getting your unit back up and running again, and you may have to shell out cash for a replacement unit. If, however, you hire our garbage disposer repair team to handle your problems right away, there's a great chance that you'll get back full use of your unit without having to buy a new model. Turn to us today if your garbage disposal displays any of the following symptoms:
Leaking
Clogging
Not grinding properly
Not turning on
Emitting strange smells
Making unusual noises
And much more!
None of these garbage disposal problems should be ignored, and getting in touch with our fully insured garbage disposal repair specialists today will ensure that they don't become much bigger problems for you in the long run.
Competitive Rates for Garbage Disposal Repair
If there's an issue with your sink garbage disposal that requires repairs, one of your main concerns is likely to be how much it's going to cost to fix it. When you hire the pros at Elite Appliance Repair to handle your disposal issues, you'll benefit from our competitive rates for garbage disposal service. Whether you're struggling with a clogged garbage disposal, a garbage disposal leak, or some other issue, we're the garbage disposal company you can rely on for affordable pricing and great results. We offer 30-day parts warranties and 90-day labor warranties on all repairs, so get in touch with us today to get your unit in prime working order once more!